Children's Classes
Are available from 4 years old upwards, working towards recognised British Gymnastics Awards. Trampolining helps with balance, coordination and increasing self confidence.
North staffs trampolining is amazing. Jenny and the rest of the coaches are amazing and help so much with my confidence, my level has risen from all the support of the coaches and the competitions that I've done. I'm now level 11 and began at level 7. I'm hoping to proceed in trampolining because when I'm there I get a nice feeling that I'm being looked after. Trampolining also inspires me in all the sport I do because it keeps me fit and healthy so I'm not all ways tired when doing other sports.

Thank you so so much

Emily, student.
Adult Classes
Provide a fun way to improve cardiovascular fitness, improve muscle tone, whilst learning new skills. Some classes have the opportunity to participate alongside your children.
British Gymnastic says "You can get involved in adult gymnastics at any age from eighteen up – even if you've never done anything like this before. Adult gymnastics provides a new opportunity to try out an amazing sport. You can test yourself in a range of activities and on apparatus offered at your local gymnastics club. By building your strength, flexibility and control, you'll see your performance improve in other sports too. Whether you're looking to take your first steps in gymnastics or get back into the sport, adult gymnastics makes it easy. There's a big social element, which makes the sessions a lot of fun"
Squad Training
Is available for those who have gained their confidence in trampolining and wish to train further and compete in competitions at a regional level. We have a strong squad who have had great success at invitational and regional level and show great promise for the future.
Learning Disabilities
Trampolining can be both stimulating and relaxing for participants with learning difficulties, assisting with development of co-ordination and life skills.
The coaching can be adapted to the ability of the participant whilst working in line with British Gymnastics Award Scheme, this will aid structured progression. Various sessions are available according to the individual needs of the participant.
Hi Jenny. I just wanted to take a moment to say, what an amazing team jump 2 it are. I am very grateful to you all and I can not express enough how delighted I am with the work, Kirsty and Nadine do with Harry. Not only is he learning, listening and interacting but he's enjoying every minute of it. Thank you.

Natalie, parent.
Physical Disabilities
Trampolining offers a wide variety of sensations and aids muscle relaxation, develops fitness, improves muscle tone, balance and co-ordination, whilst being great fun. It also has a positive impact on helping the body to function.
Coaching is tailored to meet the specific requirements of individuals. A hoist is available at certain venues if required.
Private Groups
To suit your requirements, please enquire for more details. These can be for a one off session or for multiple weeks. We have provided for schools, colleges, day services, scout & brownie group and other sports groups.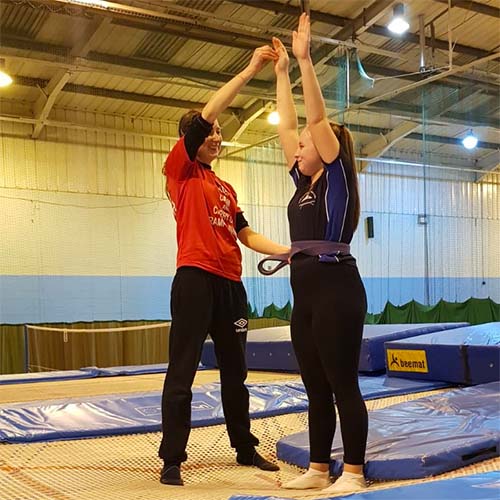 1-2-1 Tuition
Is available if required, to help improving performance or to provide a session of rebound therapy. You get your own coach and trampoline, providing extensive coaching and a high intensity workout. All can be catered for and tailored to suit your needs. We also offer 1-2-1s to children from 2.5-4 years.
Birthday Parties
Providing a fantastic and fun opportunity to introduce your child and their friends to a new and exciting sport. All the basic moves are covered along with games on the trampoline to provide further enjoyment. Please contact us for our party pack which includes full information.
Venue: The Wallace Centre, Stoke On Trent, ST2 8DU
Sunday 12-2pm & 2-4pm, or please enquire for other possible venues/days & times and will see if we can accommodate
£120 up to 16 children, can cater for more on request (4yrs +, adults welcome)
1 ½ hr of Trampolining activity and games
2 Coaches, 4 trampolines
½ hr for food, bring your own with a small eating area provided for after the activity
Certificate for every child participating
Birthday present of a party t-shirt for the birthday child
My daughter was after something different for her birthday party, I knew about trampolining parties from attending trampolining classes so I suggested this to my daughter who thought this was a brilliant idea, so we booked a party.

Wow what a party even the boys who it loved it! The coaches were really friendly and it was well organised. To make my daughter feel special they had organised for a special birthday t-shirt for her to wear on they and they decorated the trampolines with birthday banners and balloons.

The children don't need any previous trampolining experience as the party is aimed at all skill levels and from our experience the boys loved it just as much as the girls.

I would really recommend and my other daughter has asked for a trampolining party for her birthday!

Donna, parent.